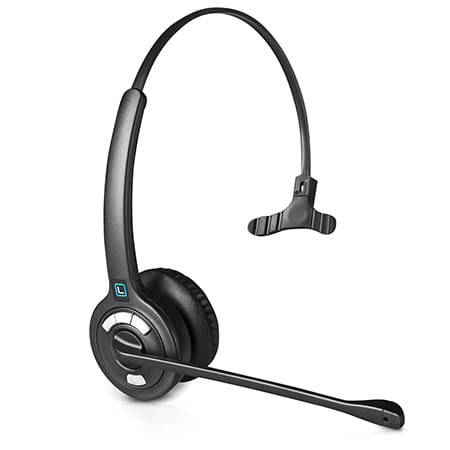 Although my blogs are often related to the Toronto area or the region I live in, SQM is an international company, so I'm always excited when I have the chance to spread the word about businesses in other areas of the world.  Today, I'm glad to be able to put a spotlight on a company that is based in the United States and ships its product to many other countries. 
Since I spend a good chunk of the day on the telephone, a number of years ago I decided that instead of straining my neck, I'd start using a headset (on a related note, wow does it make a difference….it is much more comfortable).  While I have had several different headsets over the past decade, last year my business partner hooked up a wireless version that is built by a company called Leitner Headsets.  The base is actually plugged into the phone, but the headset itself has no wires attached and is charged when sitting on the base. 
While the headset is quite comfortable and reliable, over the past couple of months an issue has come up where the headset disconnects, lights flash, and it doesn't work. Since the headset wasn't even a year old, I was getting mildly irritated, as I thought it would be a pain to fix, since the product was from the United States. Nonetheless, I decided to call up Leitner Headsets to see what could be done. On the first call, I was quickly connected to a gentleman, who immediately found my account. He was extremely pleasant to deal with, and since he seemed to be quite knowledgeable, we ended up trying to troubleshoot to see if he could guide me through fixing the problem. At the end of a short call, he told me that someone would check back with me in a couple of days to see if the issue was resolved, and if it wasn't they would simply send me out a new headset.
The very next day, the initial problem occurred again, but before I called them back, I decided to wait to see if I would get a call.  I didn't expect anyone to call me back, but sure enough two days later, on the day that they said they would follow up with me, they actually did!  This second employee seemed confident that she could fix the issues, she asked if it would be okay to take me through some additional steps before sending me out a replacement headset.  Since the staff have a-can do attitude and the issues weren't mission-critical, I was fine with giving it another shot.
Again, the fix seemed to work for a couple of days and then I started running into the same issues again. A few days later, I received another follow-up call, and when I explained to them it was still broken, they immediately said that they would send me a new headset.
After the call, I received a couple of emails, including a note indicating that my headset was on the way, as well as a status update, and although they indicated that it may take up to a week before the new headset would arrive, three days later I received the package.  Even the package showed me that I was dealing with a customer-centric organization, as there were two stickers on the outside of the box.  The first indicated that the package was "picked with customer love by Mitch" and "thanks for being a loyal customer since 2018" 
But that's not all! On the day that I finally got around to opening the box, much to my surprise, the company includes a handful of candies in the package I can't recall every receiving an added surprise, like this, and this small gesture certainly put a smile on my face.
For these days where I've often said that successful companies stand behind their product, Leitner was great at troubleshooting and when they realized that wasn't going to work, they sent me a replacement with no fuss, meaning no stress on my end. They have a great product and clearly a great culture that is focused on customer service.  They are a pleasure to deal with, and I highly recommend them for your headset and telecommunications needs. 
Leitner Headsets
212-230-4525
leitnerheadsets.com