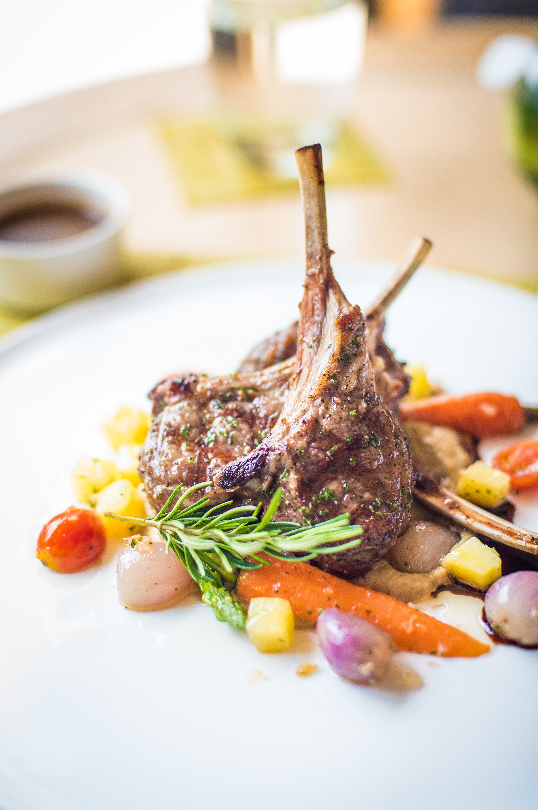 Lady York Foods is a unique, one-off grocery store, often frequented by folks in the Italian and Portuguese community who live nearby. They're well-known for their butcher shop, deli and cheese section, locally baked goods, and their produce. I also go there for seasonal items, like figs and fresh olives. If you happen to be making prosciutto, you can easily get the leg of a pig and similar items—all high quality.
Last Friday my wife and I decided we wanted to make a rack of lamb for dinner. I headed over to my neighbourhood Costco and much to my sadness and shock, they didn't have any lamb in stock, which was a rare event.
Although they had other meats, my wife and I were both craving lamb. I put my thinking cap on and while I was at Costco, I called up Lady York Foods to see if they had a rack of lamb in stock. I spoke to a young, friendly guy in the butcher shop and told him what I was looking for.
When I arrived, it was all wrapped up and ready to go. I thanked the young man for his help and headed home, eager to start digging in. When I got home my wife opened the package and was surprised because it looked different from the usual rack of lamb.
Usually, it's Frenched so it looks very presentable, and so we were surprised it wasn't Frenched already but we didn't think anything of it. When we went to cook and slice it, we realized there was an extra bone in there, and when we went to continue slicing it we realized there was no actual meat, just bone and fat.
I called up Lady York Foods again and asked to speak to a manager. I told her there might have been some miscommunication and confusion, and that I was sold something that wasn't butchered and properly presented for sale.
The young man from the butcher section told me to come in whenever it was convenient, and he would be happy to refund me. I took a picture of the lamb so I could prove I wasn't yanking his chain and stopped by the next day.
When I approached him we ended up having a nice chat and he apologized for not having the product I was looking for, and for making me return to the store to get a refund. Lady York Foods was willing to step up to the plate to ensure customer satisfaction and the young man in the butcher shop was willing to make things right.
I showed him the picture I took of the lamb and we had a good chuckle. He ended up taking the picture for training purposes for the rest of the butchers.
I applaud Lady York Foods because they stood behind their product standards and readily refunded the money in the case of a simple miscommunication.
Lady York Foods
416-781-8585
www.ladyyorkfoods.com