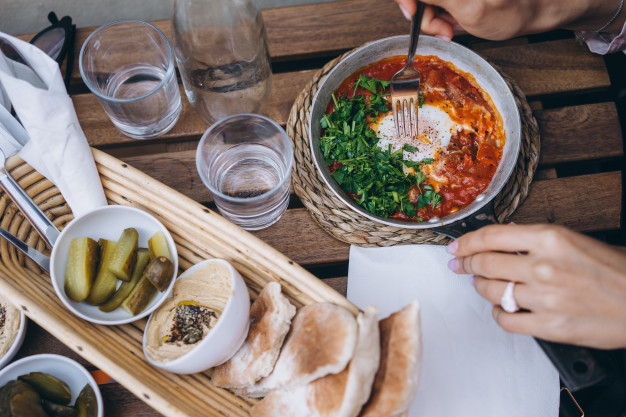 Several months ago, I heard about a popular Middle Eastern restaurant that had opened up in Toronto called Parallel. The restaurant is owned by the Ozery Brothers, of Ozery Bakery fame, and the creators behind the popular pitas that are available across the country and in some select locations in the United States. The Ozery Bakery has been around for more than 20 years and has grown from a small family owned bakery to a staple for alternative bread products. The Ozery Brothers' new restaurant is sure to become a staple for Middle Eastern cuisine due to the great food, wonderful ambiance, and the overall unique experience that it has to offer.

Where the Ozery Bakery was the creation of just Alon and Guy; Parallel is a collaboration between Alon, Guy and their brother, Aharon. The addition of Aharon is apparent in how the space, location, and ambiance of the restaurant differs from that of Ozery Bakery. By having the three brothers all collaborate together, putting their individual skills and tastes into the restaurant, they have created a restaurant that is bursting with flavour and style.
Parallel itself is a small, open-concept space that seats about 75 people. An interesting aspect of the restaurant is that it backs onto the kitchen, allowing diners to see what is happening behind the scenes. The decoration is minimal, though the art pieces that are on the walls, are statement pieces and draw the eye. The high ceilings and the trains that can be seen through the window, give the restaurant a chic, yet warm, the ambiance that is reminiscent of a working, living warehouse.

Now, don't be fooled by the location or the modern ambiance. The food is steeped in tradition, and the dining experience is based in the community. The menu is all about shareable items and diners can share beer and food with the table. This adds to the overall experience and charm of the restaurant and makes Parallel a great place for a friendly get together, a date, or a relaxing night out.

The menu offers dishes that suit all likes and dietary lifestyles. Parallel offers gluten-free, vegetarian and vegan-friendly options, while also offering a selection of dairy, gluten and meat dishes. The menu is not overly extensive, but there is enough variety that diners feel like that they can sample a wide variety of flavourful food and non-alcoholic and alcoholic beverages.

The acquaintance who told me about the new restaurant raved about how great it was and told me that they had already decided to go back. They were very excited, but there was a problem; it was so busy, they had to make a reservation a couple of weeks in advance and they didn't know if they would be able to wait that long. Now I don't know about you, but when there is a waitlist that long, I know that I have to go and see for myself what the craze is about.

So that's exactly what I did… two weeks after I had made my own reservation.

When I arrived, my guest and I were immediately greeted and escorted to a table that had already been set. The server was great; they were personable, friendly, and full of suggestions. There was a great variety of food and beverages available, and the atmosphere was lively. The Parallel salad was tasty, and the fried cauliflower was amazing! The mushroom dish was unique and delicious. The flavours of each dish were mouth-watering and memorable. They were plated attractively and were a decent portion size; though I will admit that I found the restaurant to be a little bit on the expensive side, the food and the experience was well worth the money. I can't wait to go back again and explore more of their menu, because if the food is as flavourful as the cauliflower or the salad, I know that I am in for an exciting treat.

Living in Toronto means that there are tens of thousands of restaurants that are available to choose from; and it has become increasingly difficult to find a unique, fun, and delicious restaurant that stands out. That being said, Parallel is one of those restaurants that is unique, memorable, and different, and in my humble opinion, everyone should try it and see for themselves how great it is.
Parallel is closed Monday and Tuesday, but it is open every other day of the week, offering both brunch and dinner. So, whether you are looking to try a new type of cuisine, impress a dinner date, or have a fun, relaxing brunch with friends or family, Parallel is unparalleled in providing great food and a great atmosphere, and you should definitely stop by to check it out.

Parallel
(416) 516-7765
www.parallelbrothers.com