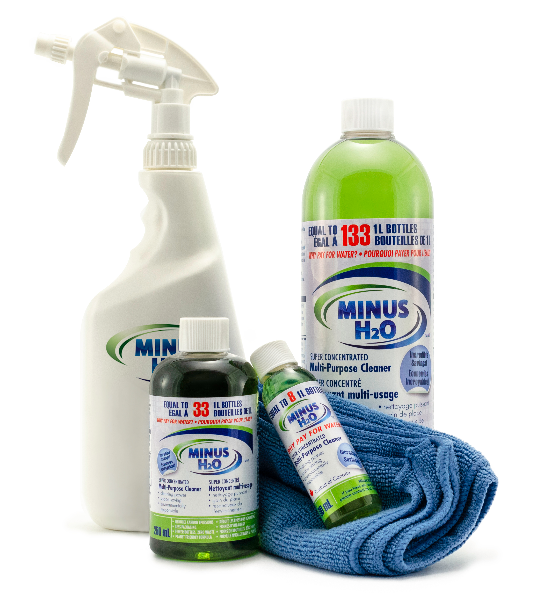 As some of you may know, my business partner and I are currently involved in a company completely unrelated to SQM, known as Minus H2O. Minus H2O is an ever-expanding line of super-concentrated household cleaning products.
Presently, we offer three products: a multi-purpose cleaner, a toilet bowl cleaner, and a window and glass cleaner, with more to come in the future. The company was founded with the purpose of addressing significant environmental issues relating to carbon emissions and plastic pollution in consumer packaged goods. When it comes down to it, most consumers don't realize that when you buy a bottle of cleaner at the store (or many household products), you're basically paying for water!
In fact, in many cases, up to 98 percent of what's in the bottle is simply just water. By taking the water out of our product, it becomes 133 times more concentrated than what you'd normally buy in stores. In addition to significant reductions in carbon emissions and the use of much less plastic, consumers also pay a heck of a lot less.
Here's the math behind our theory….since one capful of Minus H2O makes up an entire litre of cleaning product, each of our bottles will yield many more litres of cleaning product, as compared to our competition, for a fraction of the cost.
If your average bottle costs $4.00, our 60ml bottle, which makes 8L of cleaning product, will save you $30.00…enough money for you to take a friend to the movies. Our 250 ml bottle makes 33L of cleaning solution and is calculated to save the average consumer over $125.00…enough money for dinner out. And our 1L bottle makes 133L of cleaning solution, and is calculated to save the companies $500.00….enough for a staff appreciation event!
While I might be somewhat biased, just about everybody who tries the product says that in addition to the above-noted benefits, it smells great and works extremely well.
Presently the product is available in Canada, online at Staples, and in the United States on Amazon.
Whether you care about the environment, want to save a helluva lot of money, or a combination of both, I highly encourage you to give Minus H2O a try.
As always, thanks in advance for your support and consideration.
Minus H2O
416-847-1029
https://www.minush2o.com/